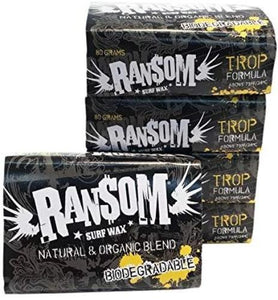 The Surf wax with gold flakes.
Coconut scent

Non-toxic, biodegradable, all-natural
RANSOM eco-friendly surf wax was launched in SoCal in early 2000. The brand image is a natural, more core, grass roots style with a focus on local groms, school surf teams & contests
When you ask yourself, where is the surf shop near me with Ransom surf wax?  The answer is Quality Surfboards Hawaii.