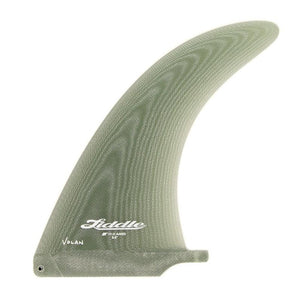 Our line of L-Flex fins, designed by Greg Liddle, were originally intended to be paired with the 'modified displacement hull' surfboards he became famous for pioneering. Precision foils and a fine tuned amount of flex were, and still are an integral component of the functionality in these fin designs.
These fins pair well with boards that are designed for acceleration, full rail carves, and smooth transitions. The L-Flex fins will provide down the line projection and positive response through turns, giving your board and energetic and alive feeling.
Our Volan fins are fine tuned with a precision foil as well as proper flex. They are handmade in our factory and go through the strictest quality control. Fins made with Volan fiberglass and properly aligned for optimal weave orientation have very high performance flex characteristics — with the flex coming more from the body of the fin rather than just at the tip.