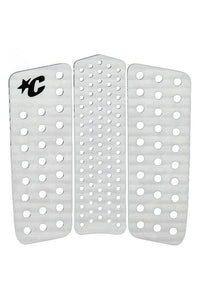 The Front Deck III traction pad is a 3-piece front pad with extreme cut outs for added traction. Constructed using our less pronounced and sleek looking Flat Cord pattern, the third iteration of our Front Deck is ultra grippy to provide that waxed on feel. 
Available in two colors, black is perfect for matching back to any colored or none colored back traction pad, while white is classic and pairs perfectly with a fresh new white board.
Also featuring 3M Adhesive backing and the exclusive lightweight premium EVA formula.