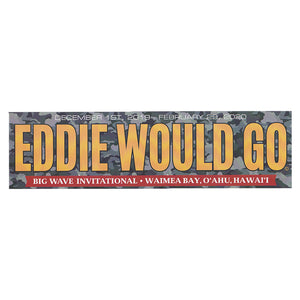 Eddie Would Go 11" Sticker - Eddie Aikau Big Wave Invitational 2019/2020
Hawaiian surfer and the first lifeguard at Waimea Bay, he saved over 500 people and became famous for surfing the big Hawaiian surf, winning several awards including the 1977 Duke Kahanamoku Invitational Surfing Championship.
The Eddie is the premier Event in the sport of Surfing – The Super Bowl of Surfing. The Eddie Big Wave Invitational celebrates the current lineage of big wave surfers, as well as the ones that came before. The legend of Eddie Aikau is an important part of Hawaiian Culture. Eddie Aikau was a championship athlete, a waterman, and a family man who truly cared for others. Eddie was not just the 1st lifeguard at Waimea Bay; he was the 1st lifeguard for the entire North Shore, and saved over 500 people throughout his career. Eddie would brave the waves that often reached 30 feet or more, when no one else would go out. It's important to keep his legacy alive and inspire the next generation to live like Eddie did.