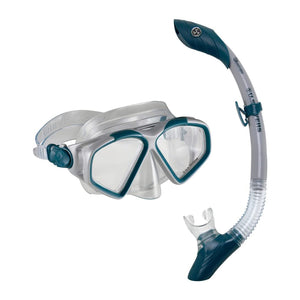 US Divers
Cozumel Snorkel Set
The Cozumel TX Combo offers unparalleled comfort and features to get you closer to the amazing under water world, making your ocean explorations truly memorable. The sporty Cozumel DX snorkeling mask has shatter-resistant polycarbonate lenses with a soft TPR face skirt for a comfortable leak-free fit. The Island Dry snorkel features Dry Top technology that seals the snorkel when you dive down beneath the surface. Take the Cozumel TX Combo with you on your next snorkeling adventure.
FEATURES

Shatter-Proof Lens

PC lens guards against debris and can withstand deep water pressure for enhanced durability.

Better Underwater Visibility

Anti-fog polycarbonate lens prevents the mask from misting up so you can see clearly. .

Watertight Fit

A soft and comfortable TPR skirt guarantees that no water leaks through the masks sides.

Adjustable Design

Easily adjust the fit using the 3-way pro-glide system.

Submersible Snorkel-Top

Use the one-way purge-valve to easily clear any water from the mouth.

Easily Clear Your Mask Underwater

one-way purge-valve allows you to drive out water from the dry-snorkel.

Enhanced Comfort and Maneuverability

The full-flex section allows you to navigate the waters easily and drop away when not in use, so nothing gets in your way.