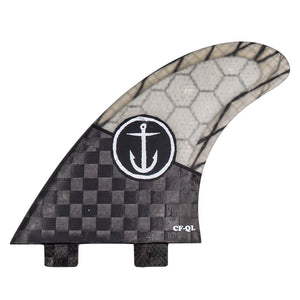 CF Quickness
Template: Balanced—ideal for performance surfing in all conditions.
Construction: Honeycomb/Carbon Fiber Construction
Flex: Medium
Compatibility: FCS II, FCS (Two Tab)
The Quickness template was designed for a balanced approach to wave riding. Fuller template for all-around surfing. Great for surfers who have an aggressive style and like to attack the lip. Ideal for just about any condition especially when it's pumping. Made with a honeycomb core to keep it lightweight, carbon fiber base for drive, and carbon fiber strips running to the tip for a lively springy feel.
| | | |
| --- | --- | --- |
| Large Fin Specification | Side Fins | Center Fin |
| Area | 16.06 | 16.06 |
| Height | 4.7 | 4.7 |
| Base | 4.62 | 4.62 |
| Foil | Flat | 50/50 |
Fin Size Chart:
| | |
| --- | --- |
| LARGE | 180 lbs.+ (81 kg.+) |