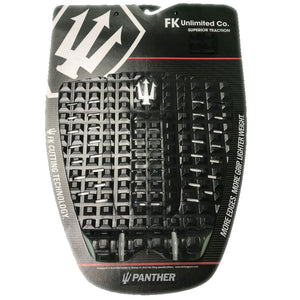 All FK traction pads feature ultra lightweight, extra grippy EVA (ethylene-vinyl acetate) foam and are backed with the best gluing process in the business.
FK's multi layered square textured pattern with smaller squares on top for the ultimate feel of board and traction.
Horizontal cut outs to add extra edges for maximum toe hold.
7 mm mid size arch with horizontal cut outs for extra grip.
High 26 mm Kick with dual grooves and beveled edges to eliminate water drag.
3 piece ultra thin, ultra light , high quality Eva foam backed with a unique gluing system that will last the life of your board.