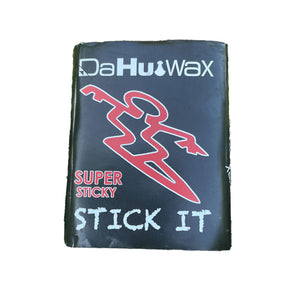 Da Hui Wax

"Super Sticky" Warm/Cool
DaHuiWax was formulated by  Hawaii's top surfers over the last few years.  Once the mix was formulated right we decided it was time to introduce it to the public. DaHuiWax was then created.  We have perfected Warm & Cold water formulas.  The NSB formula is the first in the line of our new Hybrid waxes. DaHuiWax is the best wax you will ever us!  The grip is like nothing else on the market today, Stick it! Is the best way to describe it. Stick it and your stuck.  Not to sticky, Just pure grip!  No matter where you travel, No matter what the water temp.  This wax works!  If you wish to carry this wax in your stores call us for the wholesale rate, Retail rates to the public.  Over the next few months you will be hearing the same thing we hear everyday," This is the best wax I have ever used."
A HUI was born in Hawai`i by a group of surfers, who were also known as the "Black Shorts". These men are extreme and proud native Hawaiians who believe in the protection and preservation of Hawaiian surfing, and will stop at nothing to defend it. Paddling out into the line up during the late 1970's, to stop professional surfing contests on the North Shore by non-Hawaiians.  This was just the beginning of what would later become a noticeable force in the World's surfing community. Some feared us. Some hated us.  But most respected us as these men stood up for what was right.  Respect is earned.  Not given freely. 
Later, Da Hui's clothing formation began with Eddie Rothman, Bryan Amona, Kawika Stant Sr. and Clyde Aikau. These strong & powerful surfers decided to be independent in creating their own range of garments to promote the mo'olelo (story) of the Hawaiian people.  Da Hui's design was focused on the strength and unity of the Hawaiian people - while intertwining fresh and creative designs into the product.  Also, using the best quality material makes the brand known worldwide.
Da Hui continues to support local talent to travel worldwide, market our brand on a professional level and spread Da Aloha. Da Hui supports all the right things for the right reasons. We host all types of events to benefit the people of the islands and all around the world together to join us and have a good time with positive vibes. Our message is to secure what is rightfully and peacefully ours while creating a network of people to share in the spirit of Aloha.