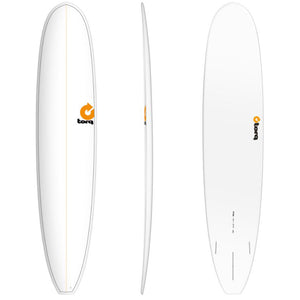 Get 20% all accessories & FREE

 

Leash

 

or

 

Traction with your board purchase! This board includes stock fins, but you can always upgrade with a premium Single Fin and Side Bites, it makes a world of difference!
From gliding and tip riding, to surfing in powerful conditions, the requirement for a modern longboard is versatility.  Our design delivers, covering all terrain. From young to old, new school through traditional styles, first wave rides to decades of experience.
With low entry rocker and full outline you'll find a board that glides in the small stuff and can be ridden from the front. Progressive surfers will find a quick midsection, slightly pulled tail, with enough release to keep the board fast and loose.  2+1 fin set up.
9'6" x 23 1/2" x 3 1/4"
88.0 ltr
Free Leash or Traction with every surfboard purchase!   Add it to your cart and the discount will be applied at checkout.
Get more information on this board HERE!