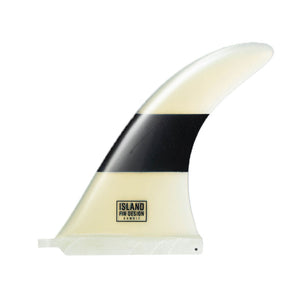 The "Islander"
A popular single fin choice, The Islander is favored for its all around performance capabilities. It keeps your speed and responds on the fly. With a slight update to this template from previous collection,  tapered tip just slightly for a faster release in transitions.
"One of the more popular fin choices, the Islander is made for all-around capabilities with an emphasis on speed and responsiveness. A great fin to try on boards that you look to loosen up a little and a great fin for down-the-line surfing. The Islander works well in wave heights from shoulder-high to well overhead." - Keoki Saguibo, Hawaii Pro Longboarder with years of experience using our fins.
HANDMADE SINCE 1979
Island Fin Design was established on the North Shore of Oahu in 1979 by surfer and craftsman Steve Mock. Since then he has continued to work with many of Hawaii's legendary board builders and professional surfers.
Each of our fins are handmade on the North Shore at our factory in the Old Waialua Sugar Mill. Island Fin Design has become Hawaii's premier fin supplier, providing a quality product for optimal performance, aesthetic superiority and durability.
At Island Fin Design we believe in quality craftsmanship, making things the right way, and taking a classic approach to templates, colors, and prints. Combining these standards with our industry knowledge, we're proud to offer you the best possible fin to suit your style and ride.