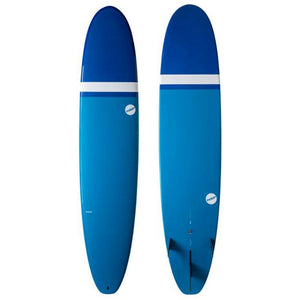 with your board purchase! Don't Forget to grab a Fin!
ELEMENTS LONGBOARD
| | | | |
| --- | --- | --- | --- |
| 8'0'' | 22" | 2" ³/⁴ | 56.9 Liters |
NSP's Elements longboard range consists of five different sizes, containing that perfect addition to any surfers quiver. These are exceptional longboards for recreational surfers to fast track their skills on.

Available in two colours, all the Protech Longboards come with two M3 sidebites and the 8″ nylon center fin, with the exception of the 10'0″ that only comes with a single 9″ fin. Riders who prefer a different setup or NSP performance fins can choose from a range of RTM upgrades listed below under "optional accessories".
ECOBOARD CERTIFIED
This board is recognized by the Sustainable Surf Foundation as a Level One Eco Board; "An ECOBOARD is a high-performance sustainable board. It has the same technical performance attributes as any modern water-sport board, while having reduced environmental and toxic impacts."
Also available in Protech, E+ and P2 Soft, the Elements Longboard is a proven classic.
Rail: Full
Bottom: Single to double concave
Ideal waves: 1-6ft
Level:  Beginner – Expert
– The best selling longboard range in the world is available in two designs, white & navy.
– The best in versatile longboard performance, using technically advanced construction at extremely attractive retail prices.
– Great longboard. It's a proven classic for swooping bottom turns, high trim lines and drop knee cutbacks.
– New, sharper rails in the tail, a modern performance rocker combined with mellow V bottom, blended with a subtle double concave.
–  Upgrades on the original shape make the Elements Longboard easy to trim on the wave and dynamic when riding off the tail.
FIN SETUP
The four smaller size boards (8'0, 8'6″, 9'0″ and 9'6″) comes with two M3 nylon fins and one 8″ center fin. The 10'0″ comes with a single 9″ center fin. Riders wanting to tap into the higher performance of the Elements Longboard should look into the different RTM fins from NSP as well.
ACCESSORIES INCLUDED
Nylon fin 8" (for 8'6 to 9'6)

Nylon fin 9" (for 10'0 only)

2 x M3 ((for 8'6 to 9'6))