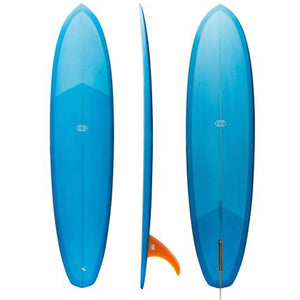 with your board purchase! Don't Forget to grab a

 

Single Fin!
**Fin is not included**
Transfer is a diamond tail egg shape with a medium volume plan-shape and a proven single to spiral vee bottom contour. It was designed as a transitional shape to fill the void between the short board fish designs and the long logs. A great board for long point or reef breaks.
Originally designed as a 9'5" speed shape for Threes on Oahu's South shore, we have scaled the original design down so it can be enjoyed as a transitional egg design rather than strictly a good-wave speed shape.
Typically the best in shoulder high and above conditions.
Dimensions: 
Length: 7'-4"
Width: 21 3/4"
Thickness: 2 3/4"
Check out our Lost Not Found Surfboards page for more information on the shaper and designs!